What's new?
17.08.2016
16.04.2016
The Great (Britain) trip to Birmingham at Crufts 2016
The biggest and most prestigious dog show. Breeders from all over the world. That's Crufts! Over 25,000 entries and of that 160 wolfhounds. If you don't live in England you must be nominate at Crufts by victory at predetermined nomination exhibitions with your dogs. Yes, and that's where we went with our stars Flynn and Baboo, they fulfilled all of this. Be part of this prestigious show is a tribute in itself, but our amazing Baboo not end there. In her class (21 entries) won 4th place and LIMIT RESERVE BITCH !!! At first time an incredible success!
Kraksangens My Fair Lady - RESERVE - LIMIT BITCH at Cufts 2016 Flynn Rider Caer Dallben at CRUFTS 2016
04.10.2015
We had a very successful show weekend. On Saturday 27.09.2015 International Dog Show in Tulln, judge Mrs. Elisabet Janzon from Sweden (kennel Wolf Tone). And on Sunday was organized Irish wolfhound Club show in Konopiště, the judge Mr. Ian Finney from Ireland (kennel Gulliagh). And the result?
Flynn Rider Caer Dallben ''Flyneček''
Saturday:
EX1 Jugendbester and "Crufts Qualification"
Sunday:
EX1 CAJC, Best of Junior
Kraksangens My Fair Lady ''Baboo''
Saturday:
EX1 CAC, CACIB, BOB, BIG3 and "Crufts Qualification"
Sunday:
EX1 CAC, BOB and Best movement (out of 80 wolfhounds)
15.06.2015
13.05.2015
With great pleasure announce that our sweet Dorothy is in whelp with handsome Swedish male. So we expecting puppies in the middle of June.
11.02.2015
Supplemented litters and added new photos.
''Tarmo'' Elnathan Caer Dallben (photo by Maria Mahlapuu), Gwydion C. D. (photo by Victoria Bolkina), Great Gatsby C. D. (photo by Anne-Birgitte Larsen)
<<<
The great success for our girls Dorothy and Baboo. 7.12. 2014 We were on an international dog show in Wels. Judged by Mrs. Shirley Rawlings (UK). Unfortunately no photos from the show, so only illustrative photo.
IHA Wels
Desire Caer Dallben - EX1 CACA, res. CACIB
Kraksangens My Fair Lady - EX1 JUGENDBESTER
30. 10. 2014
Some nice successes from the show ring
25.10. was organized Irish wolfhounds speciality show on Eurodogshow 2014 and Clubshow WDK, Judge. Gerard Jipping /NL/. On this show had premiere our new family member Flynn Rider Caer Dallben '' Flyneczek ''. The day was very cold and since the day before was Eurodogshow 2014 so were registered a staggering 82 dogs and not only from the Czech Republic. And yet we left with beautiful results...
Flynn Rider Caer Dallben - VP1 Super Puppy
Desire Caer Dallben - Ex.1 CAC + nom. to Best head
Kraksangens My Fair Lady - Ex.1 CAJC, BOJ Best of Junior, Best movement + nom. to Best head
27.09. 2014
International show in Tulln (Austria).
For ''Dorothy'' Desire Caer Dallben it was second show ever. Only four months after the puppies, already in great shape, she won her class and got Ex.1 CACA. Exhibit premiere had also our ''Baboo'' Kraksangens My Fair Lady, who got in the most occupied class (cl. young) second place Ex. 2.
Both girls were so good, we are proud of them.
25. 09. 2014
LITTER ''G'' CAER DALLBEN
Just a few photos from muddy walk.
09. 06. 2014
LITTER ''F'' CAER DALLBEN
01.01. 2014
21.09. 2013
On Saturday was Czech club show 2013 in Konopište, the judge was known and renowned breeder from France Dr. Frédéric Maison (kennel du Grand Chien de Culann) and a better result could hardly have hoped for.
Antonek (CH DUNHAM CAEN MORHEN) won in champion class EX1 CAC, then won the title Winner of Konopiště 2013 and completed his triumph and won BOB Best of Breed (out of 74 entries) + won Best movement and got nomination to the Best head.
And our beloved little girl Dorothy (DESIRE CAER DALLBEN), which was showed only once as a puppy, so this was for her first real show, received a wonderful judgement and amazing awards EX2 res. CAC (out of 11 entries) and the judge said that in a year or two will be really beautiful female (obviously agree with him;-).
It was a wonderful day, thank you to Dr. Maison and to all who cheered us! We are really happy and proud to our darlings :-))
30. 05. 2013
Antonek four years old and still happy
Kordulka five years old with grace
Brigit celebrated eighth bitrhday, thank you honey:-))
25. 02. 2013
The snow is still enough, but it doesn't detract from the enthusiasm of the walk, quite the contrary.
Even our friends mini horses enjoy snow walks with us:-))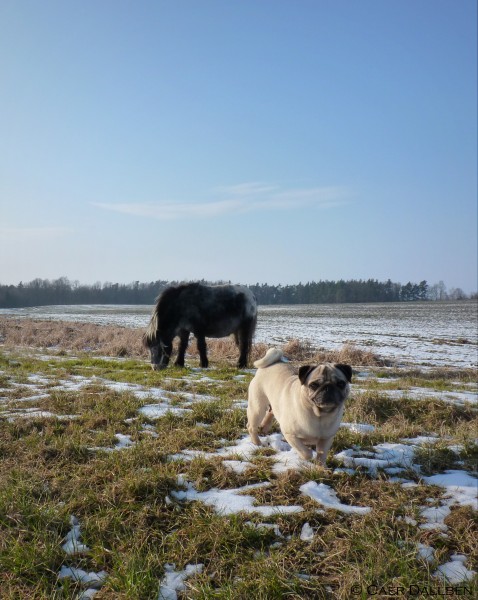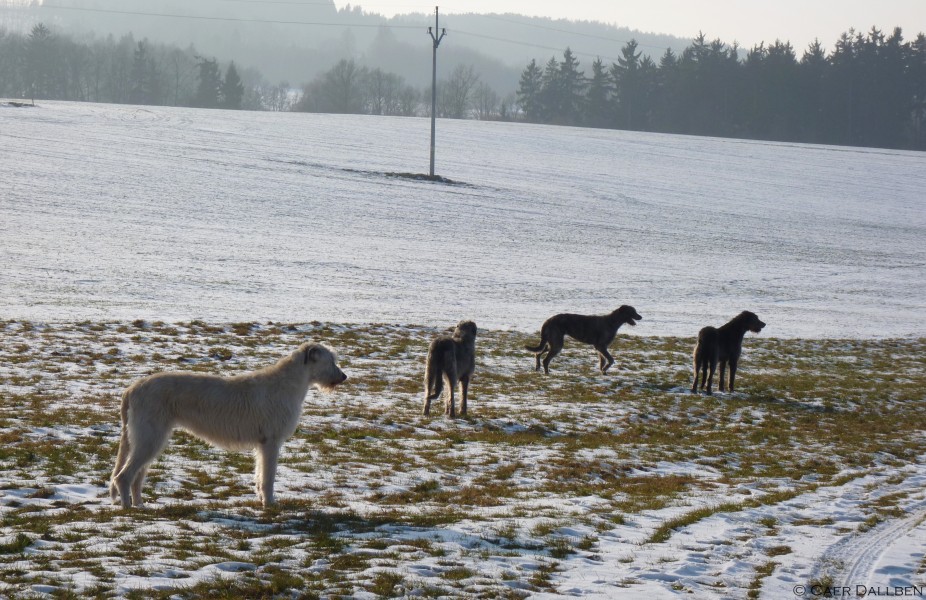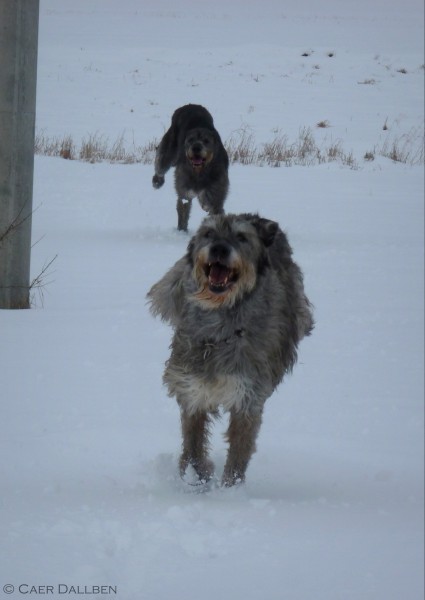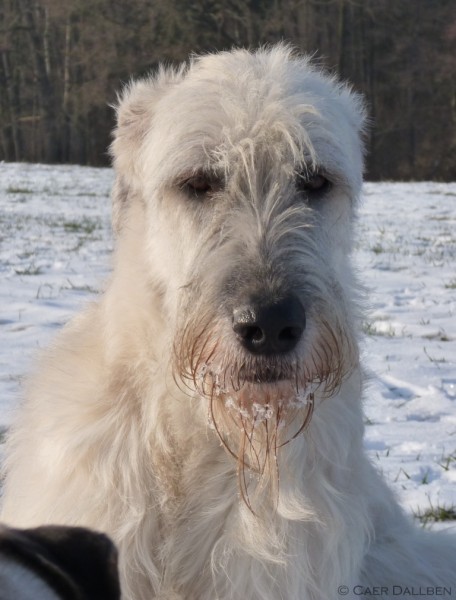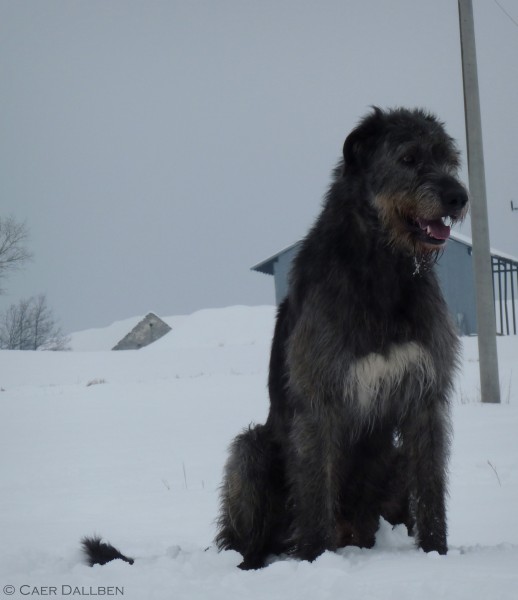 Happy, happy wolfhounds!
Contented expression, Kordulka.
Antonek, king of valley.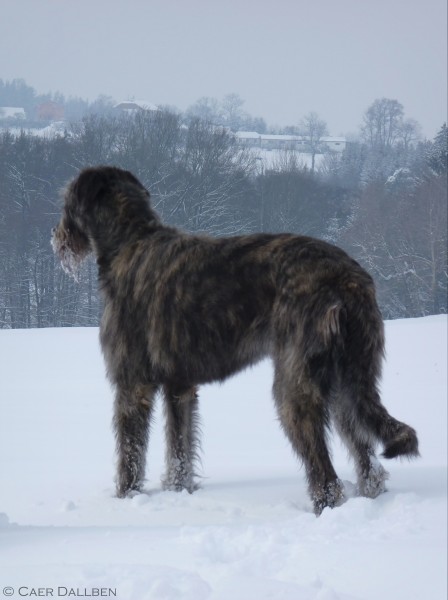 Dorothy in her ''sweet'' sixteen months
27.01. 2013
Litter E Caer Dallben celebrated nine months. Thank you for the beautiful pictures Marika and Veronika:))
15.10. 2012
Saturday we went with Kordulka on dogshow to Ceske Budejovice. And with joy and pride announce that our Kordulka (Cordelia Caen Morhen) won EX1 CAC and became the Champion of the Czech Republic. I'm really happy because Kordulka was our princess since childhood and after her mother Brigit is for us the most beautiful in the world.
And I add photo of her son Elnathana Caer Dallben (In Finland won BOB and BOG2, congratulations!) and photo of Duwayne Caer Dallben from his first birthday celebration.